Lentil Burger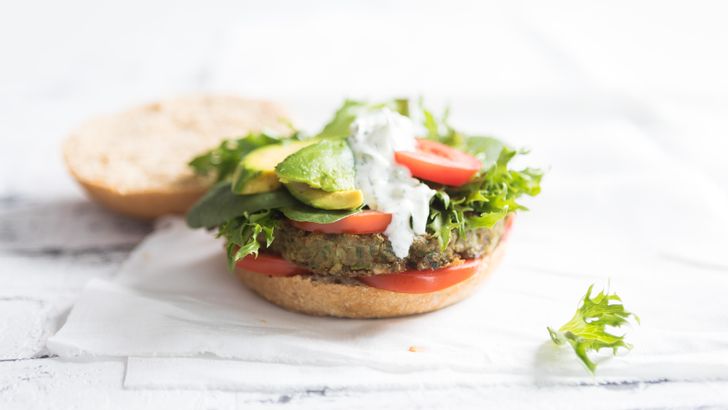 Prep: 5
Cook: 10 mins
Serves: 6
Ingredients
2 400 g cans no-added-salt brown lentils, drained and rinsed
2 cups breadcrumbs
1 onion, chopped
1/2 cup fresh coriander, chopped
1/2 tsp garlic powder
1 tsp ground cumin
2 eggs, beaten
1 spray olive oil
6 wholemeal buns, halved
2 tomatoes, sliced
1 onion, sliced
6 lettuce leaves
1 avocado, mashed
minty yoghurt sauce, (see our recipe)
Method
Mix the lentils, breadcrumbs, onion, coriander, spices, egg and pinch of salt together in a large bowl. Place half the mixture in a food processor and process until smooth. Combine with the other half of the mixture. Divide the mixture and form into 6 patties.
Spray a non-stick frypan with olive oil spray and heat over medium heat.
Cook the patties for 2-3 minutes or until golden then turn and cook for a further 2 minutes. Reduce heat to low and allow them to cook through.
Toast the buns, spread the avocado on the bottom layers, top with the lentil burger, tomato and lettuce and finish with minty yoghurt sauce.
For the lunchbox, serve the lentil burger in a fresh untoasted bun. Pack the tomato, lettuce and yoghurt sauce separately.
Minty yoghurt sauce recipe: https://www.crunchandsip.com.au/recipe/Minty-Yoghurt-Dip
Recipe and image supplied by Cancer Council NSW Healthy Lunch Box website.