Snake sandwiches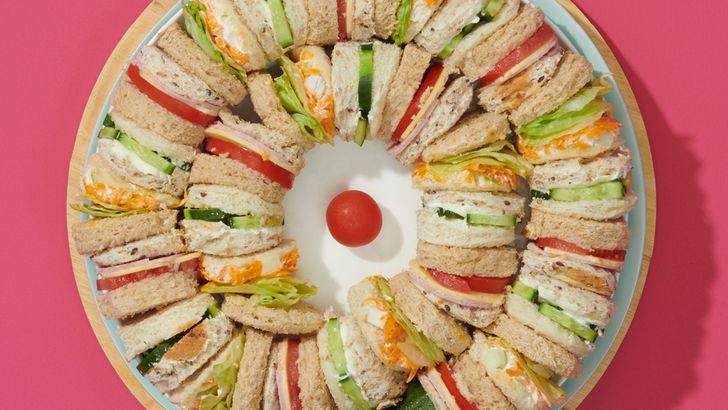 Ingredients
hummus
low-fat mayonnaise
carrot, grated
cooked chicken, shredded
cucumber, sliced
reduced-fat cream cheese or ricotta cheese
tomato, sliced
reduced-fat cheddar cheese
wholemeal or multigrain bread
Method
1. Make an assortment of sandwiches using ingredients of your choosing.
(TIP We suggest making three rounds of three different types of sandwiches, choose ingredients that hold the sandwiches together and that are easy to cut using a cookie cutter)
2. Use a round cookie cutter small enough to allow 4 rounds to be cut from each sandwich.
3. Place the end of a cucumber on a plate for the head (as pictured), add a dollop of cream cheese for each eye and place a sultana in each dot. Place a thin slice of tomato at the front to make a tongue.
4. Carefully stand a round from each of the sandwiches on its side and repeat the order until all rounds are used.
5. Garnish with a cherry tomato in the middle.
6. Cover and keep chilled in the fridge until ready to serve.
Recipe and image supplied by Queensland Government healthier website.