Turkey and Spinach Rissoles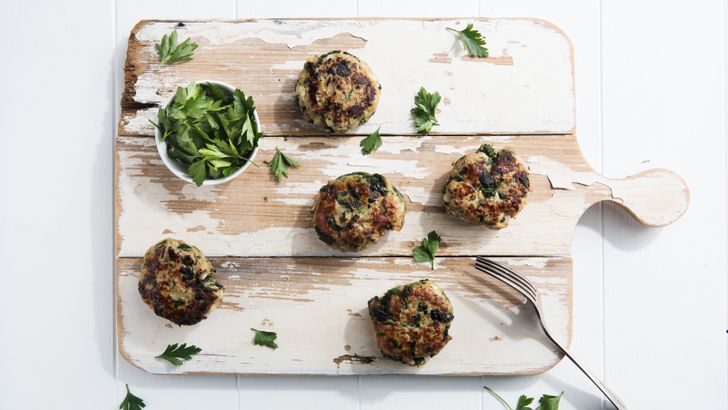 Prep: 10
Cook: 15 mins
Serves: 12
Ingredients
500 g turkey mince
250 g frozen spinach, defrosted and squeezed of extra liquid
1 brown onion, finely diced
2 cloves garlic, crushed
2 sprigs parsley, finely chopped
2/3 cup breadcrumbs
1 egg, beaten
pinch salt
olive or canola oil spray
Method
In a large bowl, mix the turkey, spinach, onion, garlic, parsley and breadcrumbs. Add the egg and the pinch of salt and combine well. Form into 12 balls.
Spray a non-stick frypan with olive oil spray and heat over high heat. Add the balls to the pan and press lightly to form a pattie shape.
Cook for 3-4 minutes or until golden then turn and cook for a further 2 minutes. Reduce heat to low and allow them to cook through.
Cook in batches depending on the size of your pan
Recipe and image supplied by Cancer Council NSW Healthy Lunch Box website.