Tomato, Spinach and Pesto Calzone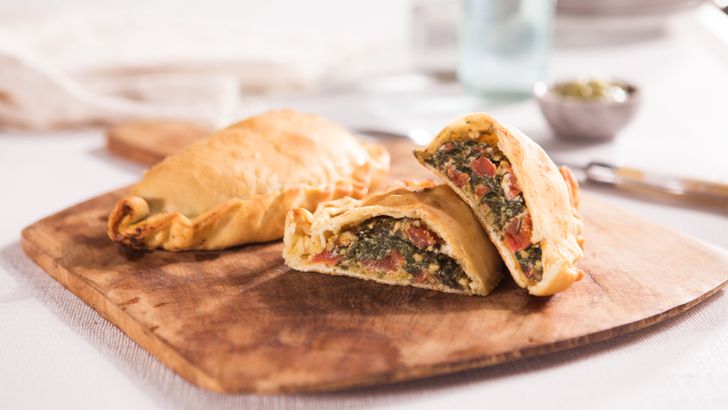 Prep: 35
Cook: 15 mins
Serves: 4
Ingredients
8 g instant yeast
1 pinch salt
3/4 cup water
2 cups wholemeal plain flour
2 tbs olive oil
4 handfuls baby spinach leaves
1 cup reduced-fat ricotta cheese
1 large egg yolk
2 tomatoes, diced
4 tbs basil pesto
1 large egg, beaten
2 tbs Parmesan cheese, grated
Method
Combine the yeast, salt, sugar and warm water in a jug. Stir with a fork. Cover and set aside in a warm place for 5 minutes or until bubbles form on the surface. Sift the flour into a large bowl and add the yeast mixture along with the olive oil. Mix to form a dough. Knead on a lightly floured surface until smooth and elastic (approx. 8 minutes). Place in a lightly greased bowl, cover and set aside in a warm place for 20 minutes or until doubled in size.
Pre-heat oven to 220oC. Line a baking tray with baking paper.
Punch the dough with your fist and gently knead on a floured surface again. Divide into either 4 large balls or 8 small balls for kid sized calzones. Roll out on a floured surface with a rolling pin and shape into rounds.
Combine the spinach, ricotta and egg yolk in a large bowl. Mix well and then fold through the diced tomato.
Spread each calzone with a thin layer of pesto. Spread the spinach mixture evenly over one half of the round, leaving a 2.5cm border. Brush the edges with the egg wash and fold the other half of the dough over the spinach mixture, leaving the bottom 2cm border uncovered.
Pinch the edges of the dough together. Cut 3 steam vents in the top of the calzones, brush the tops with egg wash and bake for 8 minutes. Brush the tops with the remaining egg wash and sprinkle with grated parmesan and bake for another 7 minutes. Remove and let cool for 5 minutes before serving.
Note:
You can freeze the dough for up to 3 months. Simply divide into portions in freezer bags. When ready to use thaw overnight in the fridge and bring to room temperature on the benchtop for approximately 30 minutes before shaping into your calzone.
Variations
Add ½ a medium eggplant, sliced and grilled and 100g sliced mushrooms for a vegie filled calzone.
Recipe and image supplied by Cancer Council NSW Healthy Lunch Box website.