Tomato and Cheese Damper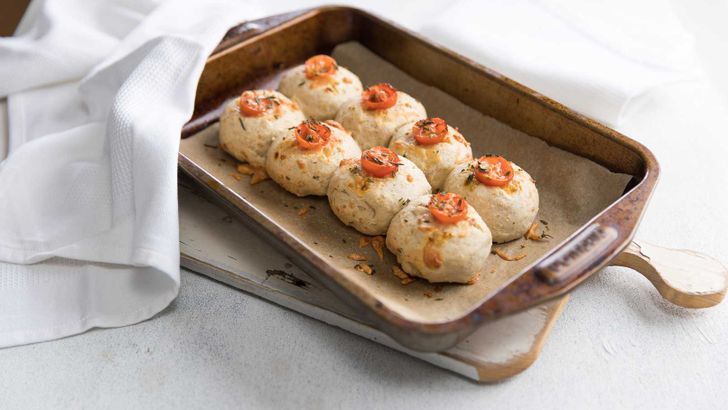 Prep: 10
Cook: 30 mins
Serves: 8
Ingredients
2 cups wholemeal plain flour
1 cup plain flour
1 tsp baking powder
1 pinch salt
5 tbs olive oil
1/3 cup reduced-fat cheese, grated
1 tbs rosemary, chopped
8 cherry tomatoes
1/2 cup reduced-fat milk
1/2 cup water
Method
Preheat the oven to 220oC. Line a baking tray with baking paper.
Sift the flours, baking powder and salt into a bowl. Add the olive oil and combine with a wooden spoon until it resembles bread crumbs. Add the cheese and rosemary and mix through.
Make a well in the centre and add the milk and water. Use a knife and work the dough until it leaves the sides of the bowl. Gently knead the dough on a lightly floured board and split into 8 even pieces. Shape pieces into balls and arrange close together on the tray. Sprinkle with a little extra cheese, press a cherry tomato into the centre of each roll and sprinkle with more rosemary.
Bake for 25-30 minutes until golden and the bases sound hollow when tapped.
Tip:
Eat on their own or add your own fillings.
Variations
If milk is not available use an extra 1/2 a cup of water instead.
Recipe and image supplied by Cancer Council NSW Healthy Lunch Box website.