Sweet Potato Lentil Curry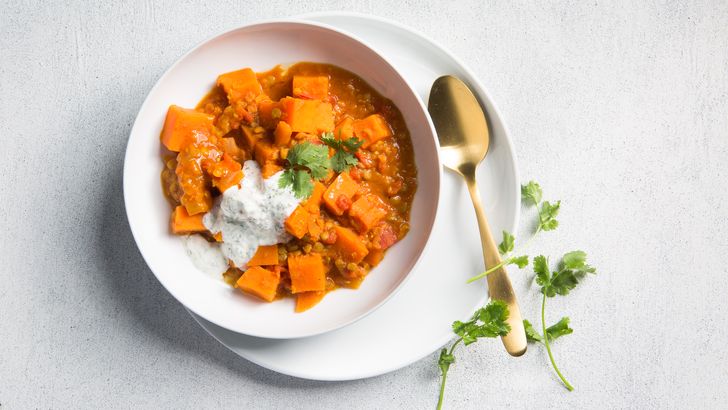 Prep: 10
Cook: 25 mins
Serves: 4
Ingredients
olive or canola oil spray
1 red onion, chopped
1 clove garlic, crushed
1 tbs curry powder
1 tsp cumin seed
1/4 cup dried red lentils
1/4 cup green lentils
1 piece fresh ginger, peeled and grated
1 medium sweet potato, seeded and cubed
2 cups reduced-salt vegetable stock
1 400 g can no-added-salt diced tomatoes
1 pinch salt
Method
Spray a non-stick frypan with olive oil. Add the onions and garlic and cook over medium heat until softened.
Add the curry powder and cumin seeds and cook for 2 minutes. Stir in the lentils, ginger, sweet potatoes, stock and tomatoes.
Bring to the boil, reduce the heat, cover and simmer for 20 minutes or until the lentils and sweet potato are cooked. Take care not to overcook the sweet potato as it can turn to mush.
Season with a pinch of salt and serve with naan bread and minty yoghurt sauce (see recipes).
Recipe and image supplied by Cancer Council NSW Healthy Lunch Box website.