Red Lentil Soup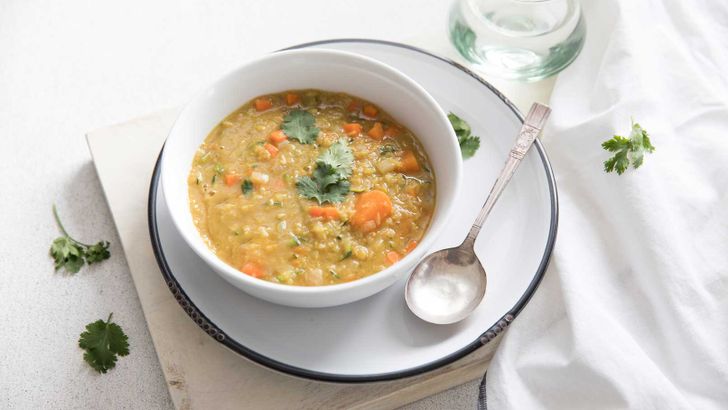 Prep: 20
Cook: 35 mins
Serves: 8
Ingredients
1 tbs olive oil
1 brown onion, diced
2 cloves garlic, crushed
1/2 tsp ground cumin
1/2 tsp ground coriander
1/4 tsp ground cinnamon
1/4 tsp turmeric
2 sweet potatoes, peeled, cut into 2-3cm pieces
1 carrot, diced
2 stalks celery, chopped
1 cup dried lentils
1 1/2 L reduced-salt vegetable stock
1 zucchini, grated
Method
Heat the oil in a large saucepan over medium heat. Add the onion and garlic, and cook, stirring frequently until the onion softens. Add the spices and cook for 1 minute.
Add the sweet potato, carrot, celery, lentils and stock to the pan, and stir well to combine. Increase heat to high and bring to the boil. Reduce heat to medium, cover and cook, stirring frequently for 20-25 minutes or until the lentils are tender.
Stir in the zucchini and cook uncovered for 5 minutes.
Tip
Blend for a smooth soup. Send leftovers to school in a thermos.
Recipe and image supplied by Cancer Council NSW Healthy Lunch Box website.