Mexican Meatballs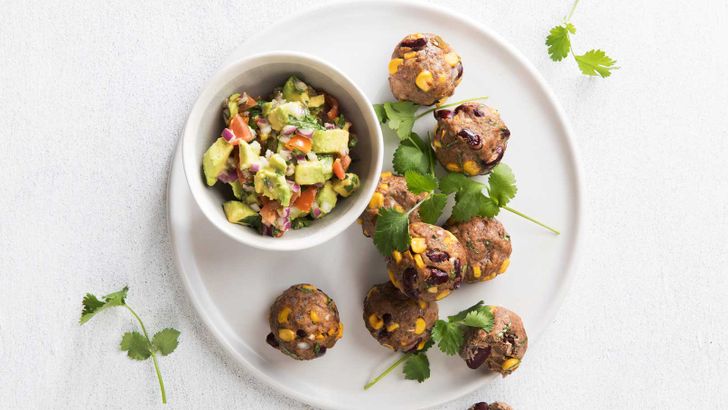 Prep: 10
Cook: 20 mins
Serves: 4
Ingredients
500 g lean beef mince
1/2 400 g can no-added-salt red kidney beans, drained and rinsed
1 small red onion, finely chopped
3/4 cup frozen corn kernel
2 tbs coriander leaves , finely chopped
1/2 tbs taco seasoning *
1/2 cup Mexican salsa
olive or canola oil spray
Method
Pre-heat oven to 180oC. Line a large baking tray with baking paper.
Combine the beef, beans, onion, corn, coriander, taco mix and salsa in a large bowl. Mix well. Form into 2.5cm round balls.
Place on baking tray. Spray with oil. Bake for 20 minutes or until cooked through.
Serve with salad or our guacamole (see recipe).
*Taco seasoning contains
1 tsp garlic powder
1 tsp onion powder
1 tsp dried oregano
2 tsp paprika
6 tsp ground cumin
2 tsp salt
½ tsp ground pepper
Variations
Use this mix to make Mexican burger patties. Simply split into 4 equal portions and shape into burger patties
Recipe and image supplied by Cancer Council NSW Healthy Lunch Box website.