Layered Mixed Baked Potatoes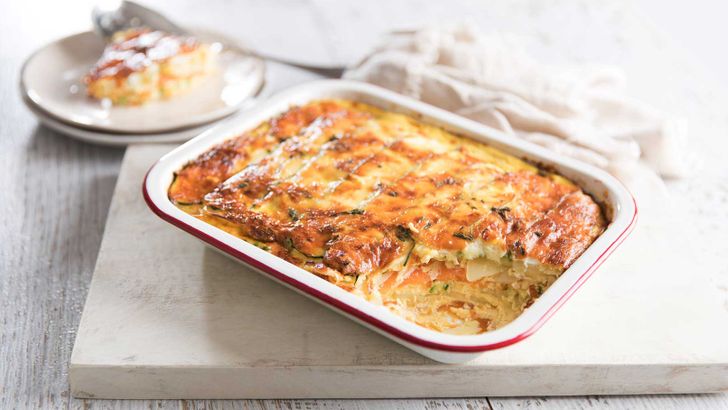 Prep: 25
Cook: 75 mins
Serves: 8
Ingredients
1 spray olive oil
2 large potato, thinly sliced
1 large sweet potato, thinly sliced
2 zucchinis, thinly sliced
1/2 cup frozen corn kernel
1/2 cup frozen peas
8 eggs, beaten
1/2 cup reduced-fat milk
1/2 cup reduced-fat smooth ricotta cheese
1/2 reduced-fat cheese, grated
1 tsp fresh thyme leaves or 1 teaspoon mixed dried herbs
Method
Preheat oven to 180°c. Line and spray a 20cm square cake tin with olive oil.
Steam the sweet potato and potato until just tender.
In the base of the cake tin, layer half of the sweet potato followed by half of the potato, then ¼ cup frozen peas and ¼ cup frozen corn. Top with a layer of half the zucchini. Repeat.
Mix the eggs, milk, ricotta and ¼ cup of the cheese in a jug. Pour over the vegetables. Top with remaining grated cheese and the thyme.
Bake for 25-30 minutes or until golden and set. ?Cool for 5 minutes before serving.
Recipe and image supplied by Cancer Council NSW Healthy Lunch Box website.