Fried Rice Muffins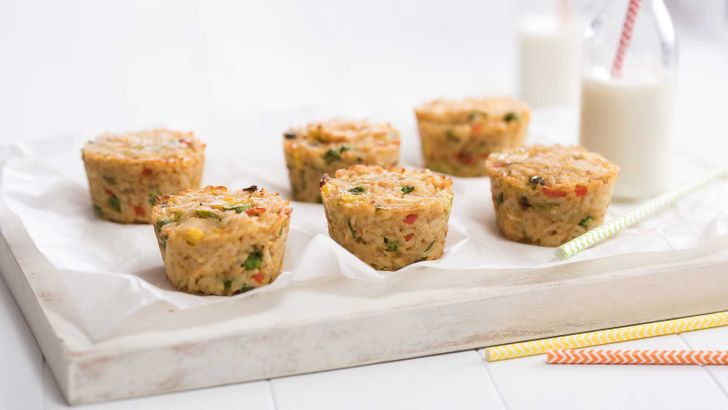 Prep: 50
Cook: 40 mins
Serves: 12
Ingredients
1 cup jasmine rice, cooked
100 g cooked chicken, shredded
1/4 cup frozen peas
1/4 cup frozen corn kernel
1 small red capsicum, finely chopped
2 spring onions (including green tops), thinly sliced
2 cloves garlic, crushed
2 eggs, lightly beaten
2 tbs reduced-salt soy sauce
1/4 cup wholemeal plain flour
olive oil
Method
Preheat oven to 200oC. Lightly spray a 12 cup muffin tray with olive oil.
Add chicken, peas, corn, capsicum, spring onion, garlic, egg, soy sauce and flour to the cooled rice and stir to combine. Spoon mixture evenly into the muffin tray. Lightly press with the back of spoon and spray with a little more oil.
Bake for 20 to 25 minutes or until golden and just firm to touch. Stand for 10 minutes then carefully remove.
Tip
Try brown rice for a nutty flavour.
Recipe and image supplied by Cancer Council NSW Healthy Lunch Box website.