Braised Chicken and Vegies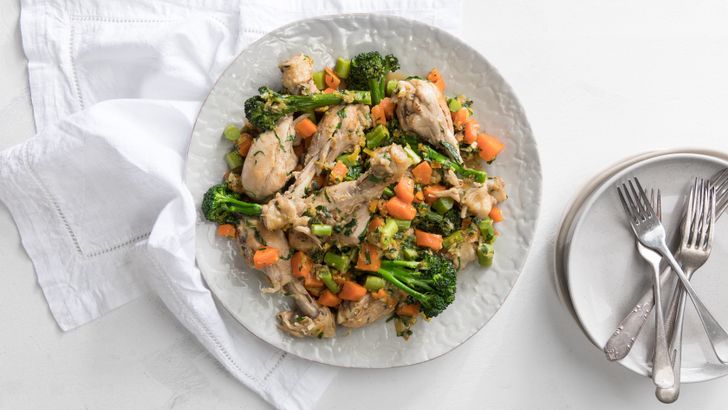 Prep: 10
Cook: 50 mins
Serves: 8
Ingredients
1 tbs olive oil
2 chicken drumsticks, skinless
2 cloves garlic, crushed
1 cup salt-reduced chicken stock
1 tbs apple cider vinegar
2 carrots, peeled and chopped
1 bunch broccolini, chopped
1 small leek (white part only), sliced
1/4 bunch parsley
Method
Preheat oven to 200°C.
Spray a large frypan with olive oil and heat over high heat. Sear the chicken, and brown on all sides. Reduce heat to medium.
Remove the chicken and fry the garlic, leek and carrot for 2 minutes. Add the drumsticks back in and spread them evenly around the pan. Slowly pour in the chicken stock and vinegar and stir briefly to bring to a simmer. Cover and let simmer for 20 minutes or until cooked. Add the broccolini, turn off the heat, cover and let sit for 5-8 minutes.
Remove from the heat, scatter with parsley and serve.
Recipe and image supplied by Cancer Council NSW Healthy Lunch Box website.