Vegie Meatloaf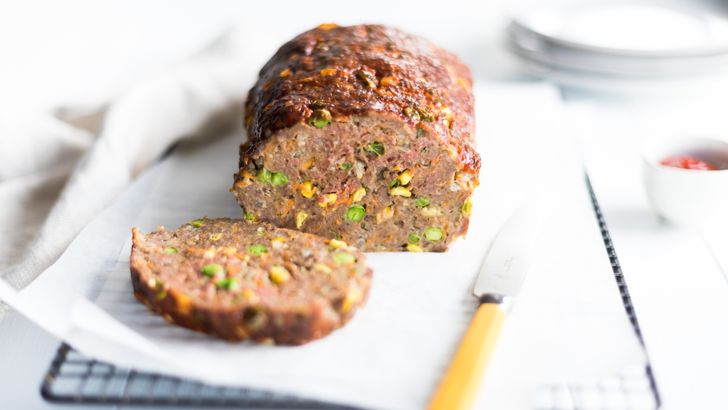 Prep: 10
Cook: 10 mins
Serves: 10
Ingredients
1 kg lean beef mince
1 brown onion
1 large zucchini, grated and squeezed of extra moisture
3 cups frozen mixed vegetables
2 cloves garlic
2 tsp reduced-salt beef stock powder
2 eggs, beaten
2 cups breadcrumbs
1/2 tsp white pepper
1 cup reduced-salt tomato ketchup
1 tbs worcestershire sauce
Method
Pre-heat oven to 180oC. Line a loaf tin with baking paper
Combine all loaf ingredients in a large bowl and mix well. Pat the mixture into a loaf shape and place in the tin. Cook for 45 minutes.
for the glaze in a small bowl, combine the tomato ketchup and Worcestershire sauce.
Remove the meatloaf from the oven and tip out any excess oil. Pour the glaze over the top of the loaf and return it to the over for a further 15 minutes. Remove from the oven and allow to stand for 5 minutes before slicing.
Recipe and image supplied by Cancer Council NSW Healthy Lunch Box website.