Tofu Soba Noodles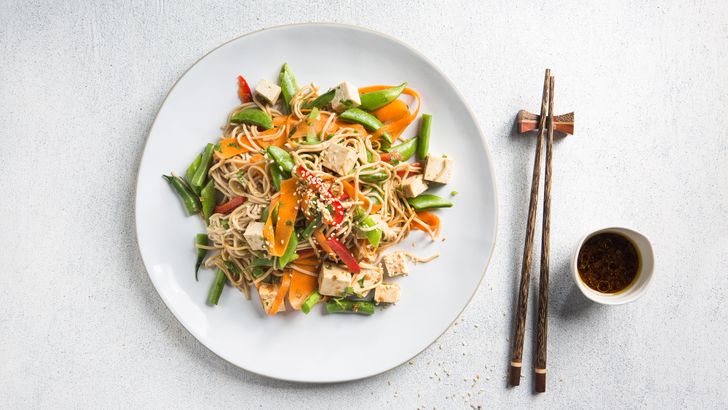 Prep: 20
Cook: 5 mins
Serves: 4
Ingredients
200 g soba noodles
1 1/2 cups sugar snap peas, roughly chopped
300 g firm tofu, cut into 1cm cubes
1 cup green beans, chopped
2 medium carrot, peeled into long ribbons
1 red capsicum, sliced
1/2 cup fresh coriander, chopped
1/4 cup sesame seeds, toasted
20 mL reduced-salt soy sauce
1 tbs olive oil
1/2 lemon, juiced
2 tsp sesame oil
2 tsp honey
2 tsp fresh ginger, grated
1 clove garlic, crushed
Method
To make the dressing,mix reduced-salt soy sauce, olive oil, lemon juice, sesame oil, honey, grated gingerand crushed garlic in a bowl and set aside.
Bring a pot of water to the boil. Cook the soba noodles according to the directions on the packet. Drain and rinse under cool water.
Combine the noodles, sugar snap peas, beans, carrots and capsicum in a large bowl. Pour over the dressing and toss together. Scatter the coriander over the top and finish with the toasted sesame seeds.
Variations
Try using rice noodles instead of soba noodles.
Recipe and image supplied by Cancer Council NSW Healthy Lunch Box website.