Toasted Muesli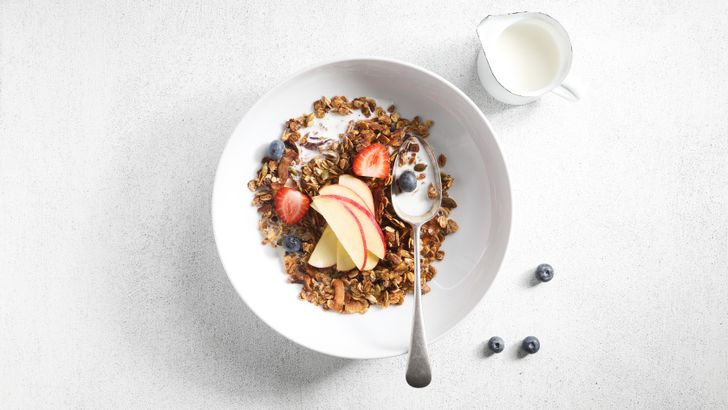 Prep: 5
Cook: 25 mins
Serves: 24
Ingredients
4 cups rolled oats
1/2 cup pumpkin seeds
1/2 cup sunflower seeds
1/2 cup unsweetened coconut flakes
1/2 cup dried apricot, chopped
2 tbs honey
1 tsp vanilla extract
1 tsp ground cinnamon
2 tbs canola oil
Method
Pre-heat the oven to 150oC. Line two large trays with baking paper.
Add the oats, seeds, coconut and apricots to a large bowl.
Mix the warmed honey, vanilla extract, cinnamon and canola oil in a small bowl then pour into the bowl with the oats and mix well.
Spread the mix over the two trays. Bake in the oven for 15 minutes. Stir and bake for a further 5-10 minutes. Allow to cool and then transfer to an air tight container.
TIP
For school: pack in a container to eat on its own or mix with yoghurt or stewed apple (see recipe)
Recipe and image supplied by Cancer Council NSW Healthy Lunch Box website.