Dolmades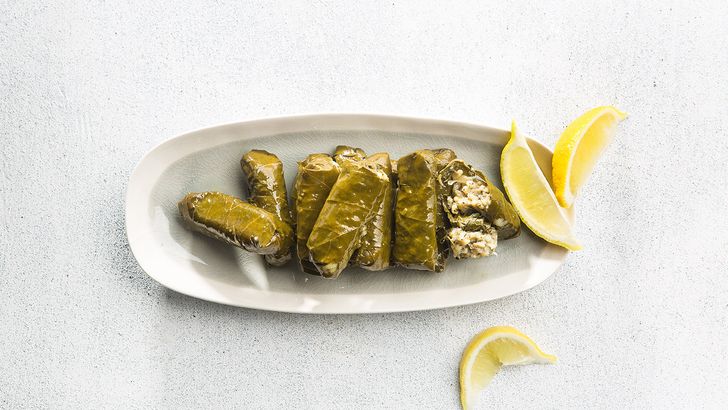 Prep: 30
Cook: 45 mins
Serves: 8
Ingredients
1 spray oil
1 medium onion, chopped
2 cloves garlic, chopped
1 tbs dill
1 tbs mint leaves
1 tbs parsley
30 leaves vine leaf
1 tbs olive oil
1 cup rice (uncooked)
1 lemon, juiced
1 pinch salt
1 L reduced-salt vegetable stock
Method
Pre heat oven to 160°C
Spray a non-stick pan with olive oil and heat over a medium-high heat. Chop and saute the onion and garlic for 2 minutes then add the rice and continue to saute until onion is translucent. Add the dill half the lemon juice and a pinch of salt. Pour in half the heated vegetable stock and stir gently until the rice absorbs it. Remove from heat and stir through the mint and parsley.
Remove leaves from the jar and pat dry. Working with one at a time flatten and place approximately 1 tablespoon (this will vary depending on the size of the leaves) of the rice mixture in the centre. Fold the bottom of the leaf over the filling then fold in the sides and roll up to form a cylinder.
Line the bottom of an oven proof dish with a layer of leaves and then tightly layer the dolmades on top with the seam side down. In a small bowl combine the rest of the lemon juice and olive oil and pour over the dolmades. Gently pour over the remaining stock so that it just covers the top layer. Cover and cook for 45 minutes. Remove from the oven uncover and allow to cool.
Serve with reduced-fat natural yoghurt and lemon slices.
Note:
You can freeze the dolmades once rolled but not cooked in the oven. Freeze in a single layer on a baking tray until fully frozen and then transfer to zip lock bags or an airtight container.
Nutrition information
| | per serving | per 100g |
| --- | --- | --- |
| Energy | 198.8 kJ | 308.2 kJ |
| Protein | 1.1 g | 1.7 g |
| Fat, total | 1.3 g | 1.9 g |
| — saturated | 0.2 g | 0.4 g |
| Carbohydrate | 7.4 g | 11.5 g |
| — sugars | 0.5 g | 0.8 g |
| Fibre | 0.9 g | 1.3 g |
| Sodium | 257.9 mg | 399.8 mg |
Recipe and image supplied by Cancer Council NSW Healthy Lunch Box website.